Welcome to Stevo's Portal, We are pleased to inform you about The Fem-In-Tech Development Programme 2021 for South African Female Entrepreneurs.-See Application details below
[ad_1]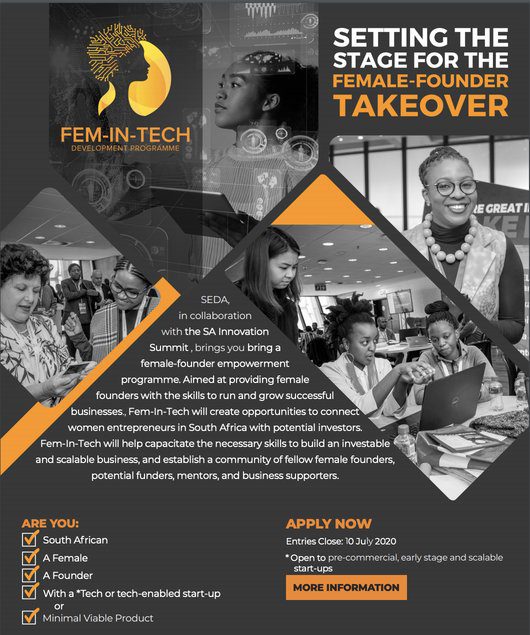 Application Deadline:30 June 2021.
The Fem-In-Tech Development Programme is back for a second year to empower more women entrepreneurs* with the skills to build successful, investable and scalable businesses. In addition, the programme will help develop networks and partnerships to enable the growth of their businesses and increase their opportunities in the entrepreneurial space.
The Small Enterprise Development Agency (SEDA), in collaboration with the SA Innovation Summit, bring you Season 2 of Fem-In-Tech– a female-focused entrepreneurship development programme for South African women. Fem-In-Tech is aimed at empowering South African women with tech and tech-enabled start-ups with the entrepreneurial and leadership skills to launch and grow their businesses.
Through this programme, a community of female-led start-ups will be created with the purpose of supporting each other through their journeys. At the end of the programme, the women will be equipped with the skills to pitch their business case to potential investors on the Demo Day, and a select group will be matched to potential business supporters and funders through the Match and Invest Platform.

Benefits
The Top 20 finalists of the Fem-In-Tech Development Programme will participate in a Demo Day at the 2021 SA Innovation Summit where they will pitch to a panel of funders and business supporters.
ONLINE TRAINING
Female entrepreneurs across the country are invited to the online provincial training days hosted by business mentors covering:
Business model canvas
Pitch training: preparing a pitch to potential funders
Digitalisation & procurement
A panel of evaluators will review all the applications and make a selection based on information provided in the application form. The Top 50 applicants will submit a 3-minute video pitch to be evaluated by a panel of expert judges to select the Top 20 Female Founders.
THE TEAM
South African Female Founder / Co-Founder. More than one founder and a strong team.
BUSINESS OVERVIEW
≤ 5 Years in Operation (min. 1 year). Stage of development: seed capital/ angel investment/ venture capital.
PRODUCT AND INNOVATION
Is the product/service innovative and unique? Product maturity: minimal viable product/early stage/ready to scale. Competitive advantage (IP / Trade Secret)?
MARKET DEMAND
Are customers, segment sizes, distribution and after-sales proven? Sound knowledge of alternatives and competitive advantage.
SCALABILITY
Can the team and offering grow quickly, outpace competitors, and penetrate new markets? Is there a sound business plan.
REVENUE / FEASIBILITY
How is revenue generated? Have operations, marketing, pricing, volume, costs, risk mitigation, and return on investment been quantified?
For More Information:
Visit the Official Webpage of the Fem-In-Tech Development Programme 202